1972 Datsun 240z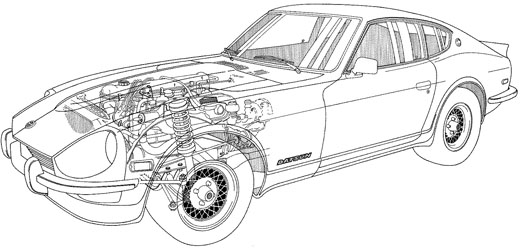 This car I bought from a Frito-Lay executive that had moved up to the Chicago area from Texas, and brought the car with him. It was sitting in his garage with flat tires, a bad battery and a few other problems. I bought it "as is" and got it running and drove it away. During the years I owned and drove it I repainted it twice, added seat covers, carpeting and other interior improvements, as well as new tires, new suspension and brakes and other necessary items.
This is probably the car most fun to drive of any I have ever owned. It was fast and handled great. I sold this car to an illustrator friend of mine within the first year after I got married in 1980.
I also did a cutaway illustration of this car.