The Sustainable City Map for the Home Depot Foundation
Through a web search, Randal was contacted by Idea Engineering out in Santa Barbara, California about doing a map for their client, the Home Depot Foundation. Through email communication, a project scope, fee and timeline were established. The objective of the project was to create a generic city map that could be used on a website to highlight various "green" and "sustainable" features that Home Depot Foundation promotes as good city planning and public policy.
Based on the resources that Idea Engineering and Home Depot furnished, Randal first created a digital "pencil" of the line art for "The Sustainable City" map. This pencil was created using Corel Painter software, running on a MacBook Pro, using a pen stylus on a Wacom Intuos3 Tablet.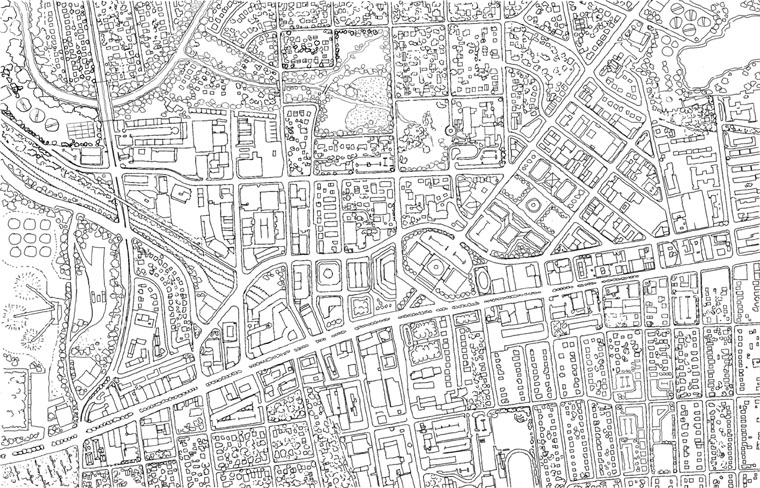 This is the final illustration as delivered to the client. The line art was kept on a layer by itself floating above a base layer used to paint digital watercolor and pencil shading that gives the map its dimensional and textured look. The developers of a new website will use this map to highlight various areas to provide greater detail and content about:
Wastewater and Sewage Treatment
Truck Weigh Stations
Solid Waster Transfer and Recycling Facilities
Eco-Industrial Parks
Wind Energy Generating Farms
Multi-Modal Train Facilities
Wetland Areas
Parks and Recreation
Water Treatment Plants
Water Reservoirs and Storage Ponds
Green Roof, Green Buildings
Rivers, Bridges and Forest Buffer Zones
Neighborhood Shopping Districts
Cultural Districts
Financial Districts